no comments
Categories:
Growth strategies Question and answer
The following matrix shows growth strategies that companies can adopt to increase their market share. Define each type of strategy along with examples.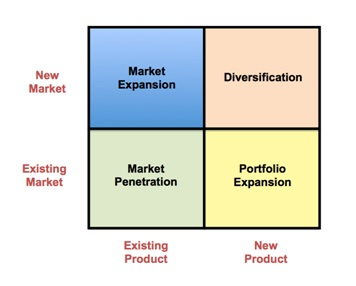 Market expansion= It is a strategy used by the organization in which they try to address the need for the new market with their existing product. This strategy is mainly used when the current product has reached the saturation point and the company wants to earn more revenue from the current product by launching it in a new market.
Example= When Apple launches its existing iPhone in African countries so that it can increase revenue from the older version of the product.
Diversification= this is the strategy used by the company when they try to approach a new market with the help of a new product. This is done in order to increase the customer base, add new product lines in the portfolio and improve the profitability of the company.
Example= When McDonald's entered the Indian market with its new product Mc-Aloo Tikki burger which was specially made for the Indian market.
Market Penetration= In this strategy the company tries to boost its sales by adding new features or reducing the price of the customers so that more customers can be attracted to the products.
For instance= When the price of the iPhone 6 is reduced to a lower level in the US market.
Portfolio expansion= This happens when the company wants to add more customers in the current market by launching new products for the customers of the existing market. This is done to overcome competition and boost sales.
Example= Lunch of Apple iPhone 11